Our Advanced Swimming Pool Technology
We're the company that built the company that brought you flawless pool systems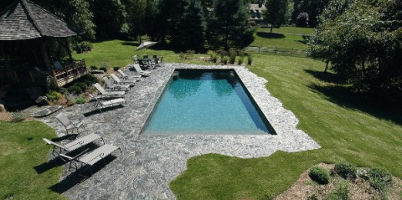 A Wagner swimming pool is different from other pools in that Edward L. Wagner himself developed the technology we use in all of our pools today. Wagner remains on the cutting edge of the pool industry and uses state of the art technology; our exceptional pool systems continuously maintain your pool, keeping it clean and heated, so you don't have to.
For over 50 years, Wagner has been installing automatic, built-in cleaning systems. You'll never have to worry about cleaning your pool because Wagner's In-Floor Cleaning System will maintain it for you. While you're out playing, our automated pool equipment is guaranteed to being cleaning 99 percent of the dirt, sand, soot and leaves in your swimming pool. It also distributes the heated water evenly throughout…good-bye cold spots!
With Wagner's Water Purification System with Corona Discharge Ozone/UV, your water will be crystal clear and the amount of chemical sanitizers, like chlorine, in the water will be greatly reduced. Ozone, earth's natural alternative to the traditional chemicals used in most swimming pools, allows your pool's water to remain crystal clear without the discomfort most chemicals cause to your skin, eyes, and pool equipment. Your pool will have the safest, most effective water purifier in the world.
Wagner has Around-the-Clock Connection, a computerized system that allows your pool to be continuously monitored and maintained. Our Computer-Operated Pool System lets you control your pool, spa, lighting features and more from inside your home while running your pool equipment, testing your water, backwashing the filter, etc all on its own.
In addition, with products like Pool Talk, we'll keep an eye on your pool for you. Your pool will be able to communicate directly with Wagner headquarters and send us comprehensive updates– every minute of every day.
Count on Wagner to bring you a "pool that takes care of itself".
For more information about natural and free-form pools, please give us a call at (203) 655-0766 or use our online form. One of our design specialists will be happy to help you.